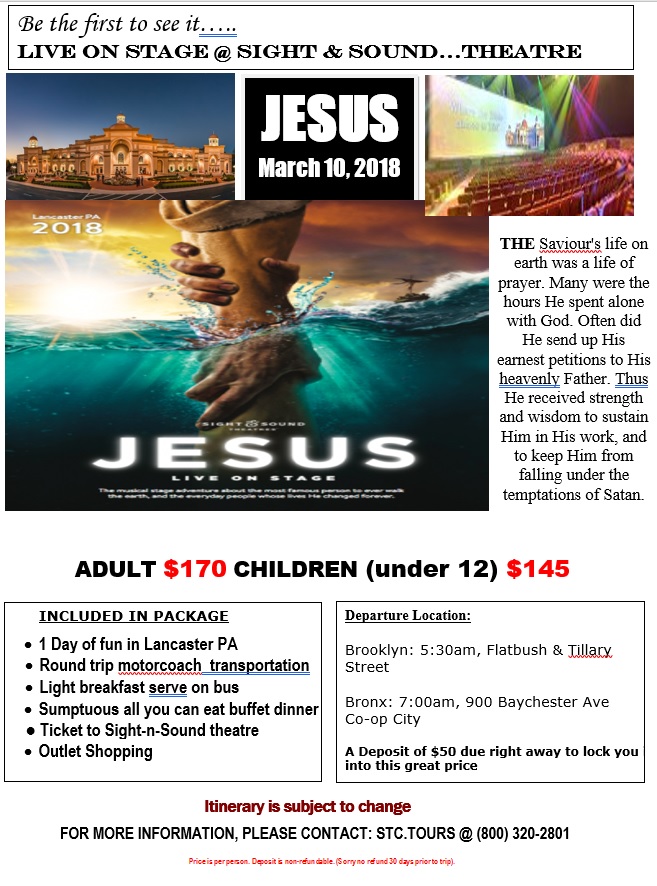 Above flyer information typed below for easy copying.
Be the first to see it…..
Live on Stage @ sight & sound…theater
The Greatest Rescue Story of All Time Bursts to Life on Stage
THE Saviour's life on earth was a life of prayer. Many were the hours He spent alone with God. Often did He send up His earnest petitions to His heavenly Father. Thus He received strength and wisdom to sustain Him in His work, and to keep Him from falling under the temptations of Satan.
ADULT $170 CHILDREN (under 12) $145
   INCLUDED IN PACKAGE
1 Day of fun in Lancaster PA
Round trip motorcoach  transportation
Light breakfast serve on bus
Sumptuous all you can eat buffet dinner
Ticket to Sight-n-Sound theatre
Outlet Shopping
Departure Location:
Brooklyn: 5:30am, Flatbush & Tillary Street
Bronx: 7:00am, 900 Baychester Ave Co-op City
A Deposit of $50 due right away to lock you in into this great price
Itinerary is subject to change
 FOR MORE INFORMATION, PLEASE CONTACT: STC.TOURS @ (800) 320-2801
Price is per person. Deposit is non-refundable. (Sorry no refund 30 days prior to trip).
About STC Tours:
STC Tours is New York's Premier Tour Operator changing how we experience the love of life combined with the love of traveling to new places across this beautiful country. On every one of our tours you will find a professional willing and ready to serve you every step of the way. Our Tour Directors are knowledgeable individuals who have a passion for travel and can't wait to share with you the history, culture, language, and exquisite foods of some of these amazing places.